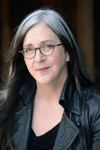 Artist Statement
----------------------
I am interested in paradox, unease, humour and contradiction. I like to directly address and implicate the viewer in the process of spectatorship and work with installation, film, audio, performance, electro-magnetism, digital photography and video, light and mechanics.
The work questions the implied stability of structures like "human nature", knowledge and architecture and how over time these structures are contested, disappear or get reclaimed by nature. Psychoanalysis provides the template for reading behaviour as a form of political resistance, a coping mechanism for trauma where social conventions are resisted by irregularity and unpredictability. My interest in the psycho/socio nature of phenomena, how and why things appear is guided by research into histories where the romantic oscillates with the scientific.

Biography
--------------
Paulette Phillips' work deals with the relationship between viewer and subject, focusing on witnessing, looking and reflection. Consistent in her work is an interest in the way psychological content is embedded in the physical world. Over the past thirty years she has worked in visual art, film and theatre and for the past 15 years has primarily focused on sculpture and film installation showing her work primarily in the UK, France and Germany. Her work is in a number of public collections including the National Gallery Canada, Oakville Galleries, the Museum of Modern of Modern Art and Frac, Haute-Normandie and in corporate and private collections including Gluskin Sheff + Associates and BMO Bank of Montreal. Her work is represented by Danielle Arnaud Contemporary Art, London, and Diaz Contemporary, Toronto. Paulette teaches time-based and contemporary art practices at OCAD University.